Senstate Cloud Box
BROADCAST LIVE ENVIRONMENTAL DATA AND EDUCATIONAL INFORMATION ON ANY SIZE INDOOR AND OUTDOOR SCREENS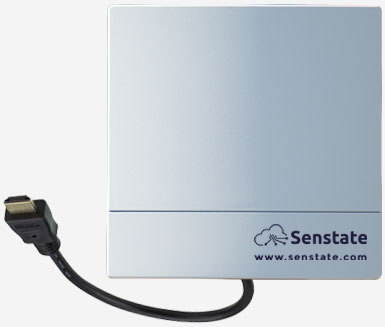 Applications
Industrial Areas
Heavy Traffic Zones
City Parks
Neighbourhoods
Schools and
Universities
Tourist Destinations
The Device
Senstate Cloud Box is a smart broadcasting device that transmits a specialized dashboard component in the form of video signal to any size of indoor or outdoor screens. It is a cloud connected device that require internet to obtain real-time air quality and environmental data from Senstate's cloud services.
The rich set of features allow the user to enable educational information in the form of interesting facts about the environment and many more.
Take the opportunity to create engagement in people and improve knowledge of environmental protection by streaming educational information
Technical Specifications
Power supply
DC 5V, 1A. Power supply adapter included
Video output
Through standard HDMI interface.
Connectivity
Wi-Fi IEEE 802.11 b/g/n
Aspect ratio
4:3 and 16:9 aspect ration supported
Resolution support
Up to Full HD resolution
Recomendations
Advices for outdoor activities based on specifications of world-recognized indexes
Educational information
Interesting facts about the air quality and the environment
Multi-Language Support
Fully localized content and educational information
Historical Data
View 24h historical data of the Air Quality Index in the respective pollution level color
Regulatory Monitoring
Track each separate parameter subject to EU regulation limits on percentage base scale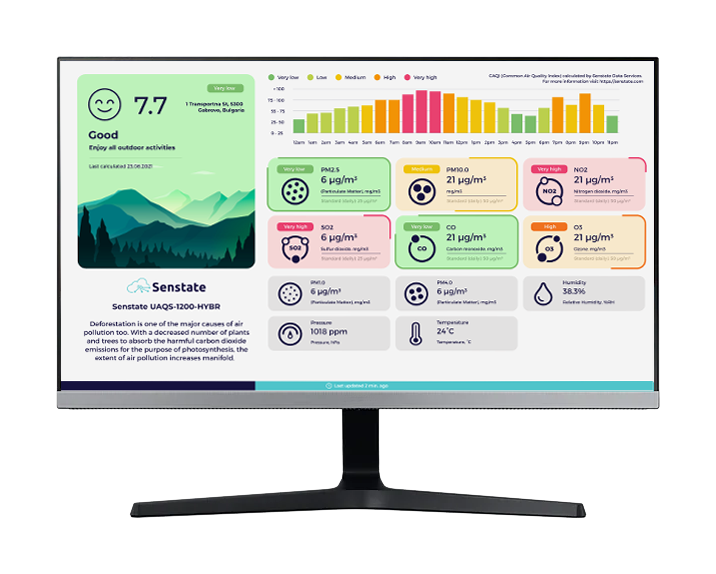 Interested further?
Interested to know more about Senstate Cloud Box,
to have quotation, discuss idea or project?